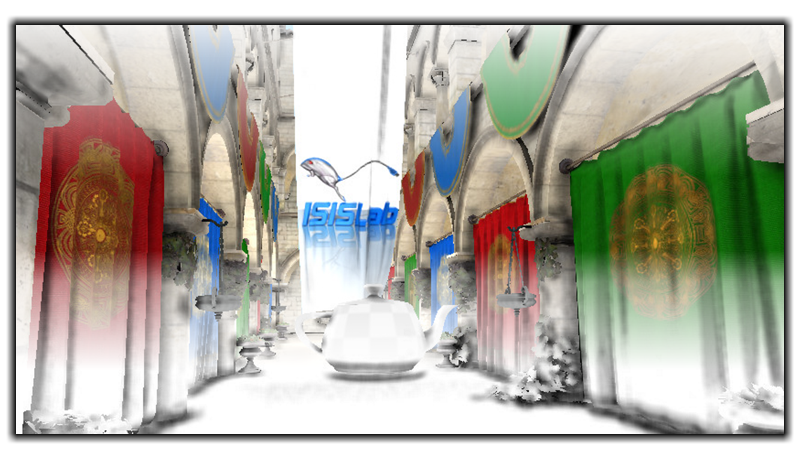 Per la mia tesi di Laurea Specialistica, sono tornato in ISISLab (dove avevo già lavorato alla tesi di laurea triennale), questa volta operando supervisionato sia dal Professor Vittorio Scarano che dal Professor Ugo Erra.
Frequentando il laboratorio, ho dedicato un bel po' di tempo a
studio della computer graphics
sviluppo integrale di una sandbox di rendering in C++11/OpenGL 4

Y.A.R.S - Yet Another Rendering Sandbox

progettazione e sviluppo di una nuova tecnica per l'ambient occlusion in screen space

saSSAO - Solid Angle SSAO
Ecco un video dimostrativo di quanto realizzato:
Il mio lavoro è stato successivamente ripreso in una pubblicazione scientifica:
Scarpa D., Erra U. (2017) Solid Angle Based Ambient Obscurance in Image Space. In: De Paolis L., Bourdot P., Mongelli A. (eds) Augmented Reality, Virtual Reality, and Computer Graphics. AVR 2017. Lecture Notes in Computer Science, vol 10325. Springer, Cham
---
Tesi (in inglese), slides e codice sono disponibili per il download:
Tesi: Solid Angle based Ambient Obscurance in Image Space
testo completo abstract slides presentazione finale
Implementazione: Y.A.R.S. + saSSAO
repository codice sorgente
Seminario intermedio tenuto all'ISISLab: OpenGL fun in the Sponza atrium
slides
---
Puoi anche visitare
la mia pagina sul sito ISISLab
.